Cynthia Schira
---
---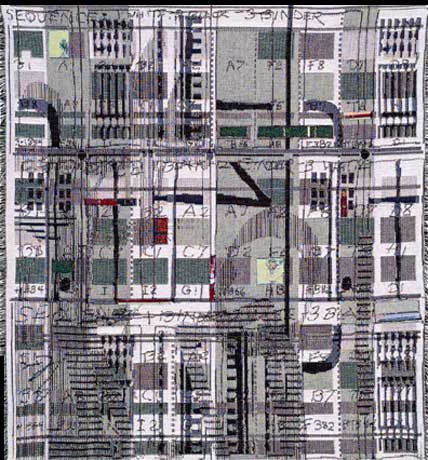 Cynthia Schira Reminders
Cotton. Jacquard woven, appliqued.
---
---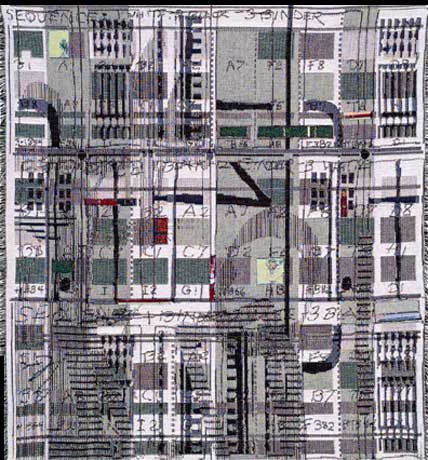 Cynthia Schira
Reminders
Cotton. Jacquard woven, appliqued.
---
Cynthia Schira has been exhibiting internationally for over 40 years. She is the recipient of two NEA grants, a Tiffany Grant and an Honorary Doctorate of Fine Arts from the Rhode Island School of Design. In 2000 she was awarded a Gold Medal from the College of Fellows of the American Craft Council.
Statement about Reminders
My continuing and underlying intent has been to integrate woven structure and image so they are physically and visually inseparable.  Varying series have evolved over time within these general parameters.  I have  translated  systems  of marks  –  diagrams, ciphers, and  computer gibberish  into  my weavings.
Reminders continues within this realm but visually  plays with my every day notes and doodles rather than known systems  I concentrated  on previously.  It is a  Jacquard weaving on a six color  cotton  tapestry warp  with two color cotton wefts.   I wove it in North Carolina at the Oriole Mill.
Selected Collections
Metropolitan Museum of Art, NY
Museum Bellerive, Zurich, Switzerland
Philadelphia Museum of Art, Philadelphia, PA
Renwick Gallery, Smithsonian American Art Museum, Washington DC
Numerous private collections throughout the United States and internationally