Sophie Munns
---
Sophie Munns is a visual artist whose love of natural and living things has stayed with the artist through 5 decades and 36 relocations between city, urban & regional landscapes. Her wish to explore and develop her passion for ancient and diverse cultures, gardens and the shared table has informed her career and life choices as well as her art.
In 2013 Sophie continued her Homage to the Seed project, first launched in 2010 during her residency at Brisbane Botanic Gardens. Through these works, Sophie hopes to highlight the age-old relationship between people and plants and to comment on how textile traditions carry profound interactions between humans and nature.
The 'Antipodean Inheritance' Cloths pay tribute to the great many Australian species she has been drawn to investigate: pods, seed capsules and seeds of endlessly varied dimensions and characteristics, collected in numerous habitats and urban settings, on residencies, in discussions, and through research. May these celebratory textile works bring to all a simple reminder "…at the center of everything we know is the matter of seeds."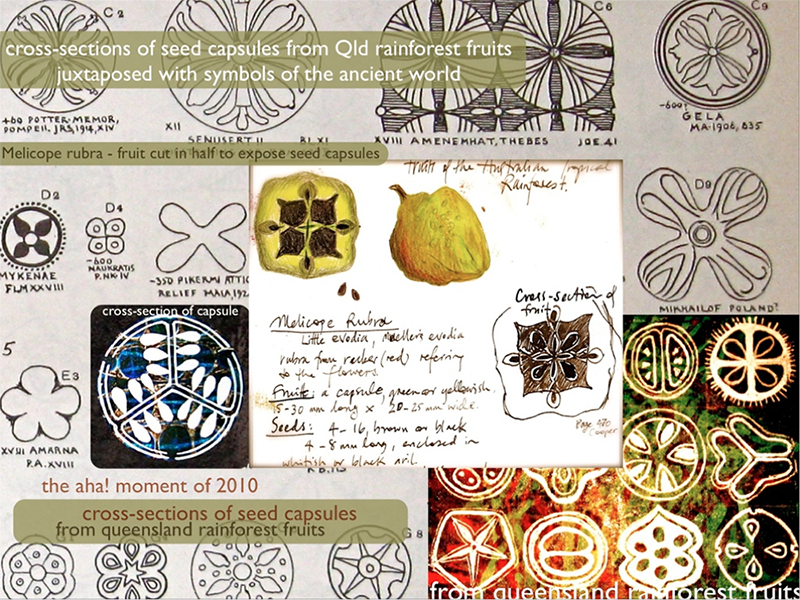 Seed motif inspiration for Sophie Munns' work showing cross-sections of seedpods and sketches.
Selected Collections
Institute for Molecular Bioscience, QLD, Australia
KEW Gardens Millennium Seedbank, UK
Maitland Regional Gallery, Maitland, Australia
Victoria University Library, Wellington, New Zealand
Numerous private collections throughout the United States and internationally