---
Upended Lives: Jewelry in the Age of Covid
September 11, 2021 – October 30, 2021
---
---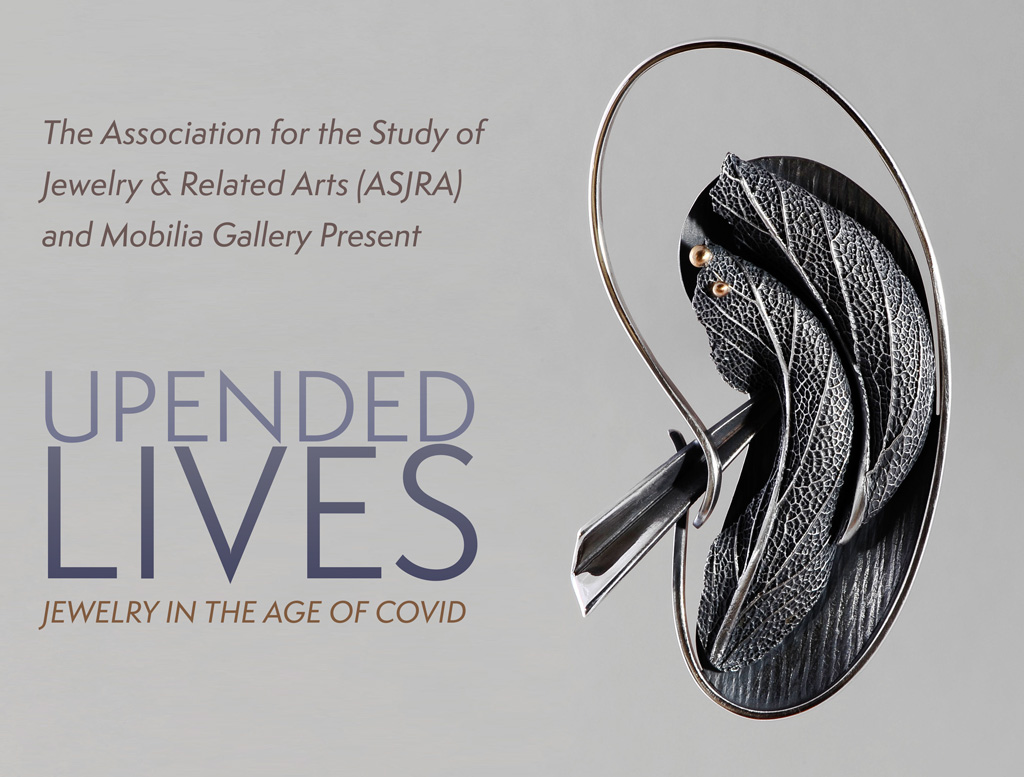 Linda Threadgill, Still Life Botanical Brooch 1, 2021. More information on this work is contained in part one of this newsletter series.
×
Linda Threadgill, Still Life Botanical Brooch 1, 2021. More information on this work is contained in part one of this newsletter series.
---
The Association for the Study of Jewelry & Related Arts (ASJRA) and Mobilia Gallery co-sponsor this Invitational Exhibition entitled: Upended Lives: Jewelry in the Age of Covid.
Learn more:
Upended Lives, Part One (Newsletter Announcement)
Upended Lives, Part Two (Newsletter Announcement)
View works from the exhibit in our Design Store at https://store.mobilia-gallery.com/
The idea for the exhibition was conceived by Yvonne Markowitz, Rita J. Kaplan and Susan B. Kaplan Curator Emerita of Jewelry, Museum of Fine Arts, Boston and Elyse Karlin, jewelry historian, author, and freelance curator. Markowitz and Karlin are co-directors of ASJRA and co-editors of Adornment Magazine.
Curated by Libby Cooper and Jo Anne Cooper,
co-directors of Mobilia Gallery 
The exhibition will run September 11th – October 30th, 2021 at Mobilia Gallery, 348 Huron Avenue, Cambridge, MA 02138 as well as online at https://www.mobilia-gallery.com. An entire issue of Adornment Magazine will be dedicated to the exhibition to be published online in mid-September.
Please email mobiliagallery@gmail.com to request a virtual copy of the Adornment Magazine featuring this exhibit, compliments of ASJRA and Mobilia Gallery.
"During challenging times, artists occupy a unique position in society because of their exceptional ability to unearth, absorb, and illuminate what lies hidden or inchoate. It is their creative efforts that provide us with the means to understand, comfort, challenge, and seek solutions in troubling times." — Elyse Karlin and Yvonne Markowitz, ASJRA.
Yvonne Markowitz and Elyse Karlin of ASJRA have collaborated with Libby and Jo Anne Cooper of Mobilia Gallery to invite 44 international studio jewelry artists to create a special piece or limited series of jewelry reflecting on their experiences during the Covid-19 pandemic. Participating artists are:
Ando Yasuhiro, Annamaria Zanella, Arata Fuchi, Asagi Maeda, Attai Chen, Catherine Granche, Claudio Pino, Cristina Dias, Cynthia Toops and Dan Adams, Efharis Alepedis, Elizabeth McDevitt, Eunseok Han, Felieke van der Leest, Hanne Behrens, Harold O'Connor, Hiromi Suter, Jack da Silva, Jim Bové, Jose Marin, Joyce J. Scott, Karen Paust, Kee-Ho Yuen, Kelvin Birk, Kim Nogueira, Linda Threadgill, Lynne Sausele, Makiko Oda, Marilyn da Silva, Martin Spreng, Mary Hu, Miki Asai, Petra Class, Rachael Colley, Rachelle Thiewes, Rebecca Hannon, Ryungjae Jung, Sarah Enoch, Suzan Rezac, Takashi Kojima, Yoko Shimizu, Yong Joo Kim, Yuka Saito, Yukie Shirakawa, and Yuri Tozuka.
Top Images:
Felieke van der Leest
Batmanni Covidae
Pendant. Textile, silver, epoxy
16 x 5 x 2.5 cm