---
Joyce J. Scott: Spotlight Exhibition
October 4, 2016 – January 31, 2017
---
Joyce J. Scott received MacArthur "Genius" Award, 2016!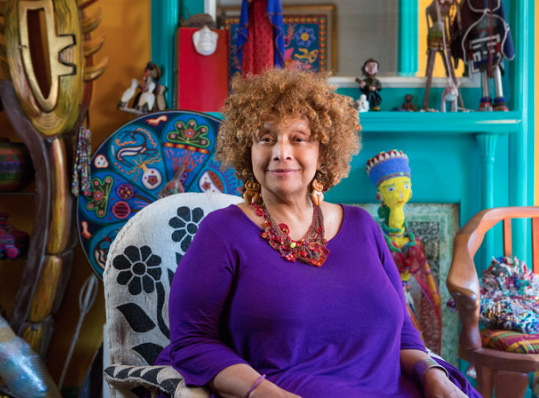 "Fearless, a force to be reckoned with, and as beautiful inside as out, Joyce J. Scott touches the soul and conscience of the viewer with her powerful imagery. A legend in Baltimore, Joyce is an historian, printmaker, weaver, sculptor, performance artist, vocalist and educator. She is perhaps best known for her work in jewelry, beadwork, and glass. Combining a heterogeneous mix of media (glass beads, African sculptures and masks, found objects), she creates powerful sculptural commentaries, rich in color, texture, popular culture, pathos and her own ancestry."
– Lynn Ward, City Paper's Best of Baltimore votes Joyce J. Scott: Best Artist
"The rich social import of Scott's work is matched by its visual richness. Scott describes her beadwork as a cross between sculpture and painting. The artist treats the beads like the dabs of paint in a Pointillist canvas, but unlike paint (a medium Scott has tried), glass beads have the advantage of being translucent and can both capture and reflect light. Scott's virtuoso weaving technique – a method similar to crochet called the peyote stitch, which she learned from a Cree Indian – allows great fluidity of form, resulting in protruding hollow forms and undulating effects. Scott is always seeking greater technical challenges; her work has grown increasingly more daring and dazzling in its visual richness and range of subject matter."
– Susan Grant Lewin, "One of a Kind: American Art Jewelry Today
Renowned as the "Queen of Beadwork," Joyce J. Scott's exuberant beaded sculptural forms and neckpieces are provocative and confrontational, addressing contentious political and social issues such as gender, race, and class struggle. Born and raised in Baltimore, Joyce is a descendant of African-Americans, Native Americans, and Scots. Three generations of storytellers, quilters, basket makers, and wood, metal, and clay workers inspire her artwork.
Her earliest art lessons were received at home as she watched her mother, the renowned fiber artist, Elizabeth Talford Scott, create quilts using unconventional embroidery and appliqué techniques. Deeply rooted in her ethnic and family heritage, Scott's work comments on issues affecting contemporary society in an effort to elicit awareness and response. The eloquent artist states, "It's important to me to use art in a manner that incites people to look and then carry something home – even it it's subliminal – that might make a change in them."
Quotes
[This is] the one life we know we have. I can't be complacent about the world I live in.

It's important to me to use art in a manner that incites people to look and then carry something home – even it it's subliminal – that might make a change in them.

Art can be a life force. That's why so many people in other cultures integrate it into everyday use.

I know I've got an itch. I guess I just want to keep making work that confounds me. I want to be confused, ignited, knocked down by my own work.

I believe in messing with stereotypes, prodding the viewer to reassess.

We're all trapped in gender, race, and class if you believe you have no freedom of choice and are under the weight of other people's suggestions about what you are.

To make a difference in the lives of children, we must be much more honest and up front to them about the society we've created. I don't believe in shielding children from issues they are seeing everyday. It is smarter, especially for an institution that has a charge to educate, to say, "What is this about?"
Press
Selected Public Collections
American Craft Museum, New York, NY
Baltimore Museum of Art, Baltimore, MD
Brooklyn Museum of Art, Brooklyn, NY
Charles A. Waustum Musuem, Madison, WI
The Corning Museum of Glass, New York, NY
The Detroit Institute of the Arts, Detroit, MI
Druid Hill Park Revitalization (Collaboration), Baltimore, MD
Frederick Douglass- Issac Myers Maritime Park/ A Living Classroom, Baltimore, Maryland
Harlem Park Square Revitalization, Baltimore, MD
Howard Peter Rawlings Conservatory and Botanic Gardens in Druid Hill Park, Baltimore, MD
Kruithuis Museum, Hertogenbosch, The Netherlands
Laumeier Sculpture Park, St. Louis, MO
Mint Museum of Art, Charlotte, NC
The Montreal Museum of Decorative Arts, Montreal, Canada
Museum of Fine Arts, Boston, MA
Museum of Fine Arts, Houston, TX
National Museum of American Art, Smithsonian Institution, Washington, DC
Nations Bank, Charlotte, NC
Pennsylvania Convention Center Authority, Philadelphia, PA
Philadelphia Museum of Art, Philadelphia, PA
Philbrook Museum of Art, Tulsa, OK
Renwick Gallery, Smithsonian Institution, Washington, DC
Rhode Island School of Design Museum, Providence, RI
Roland Park Country School, Baltimore, MD
Ronald Reagan Washington National Airport, Washington, DC
Spirit Square Center for the Arts, Charlotte, NC
Weatherspoon Art Gallery, Greensboro, NC