Joyce J. Scott: Messages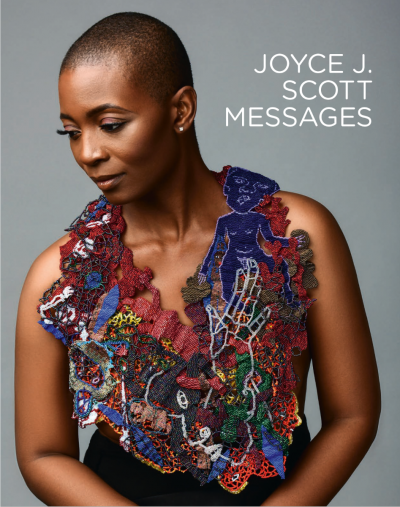 Joyce J. Scott: Messages
Published by Arnoldsche
96 pages
Softcover with flaps
8.6″ x 11″
More Information
Mobilia Gallery has  organized a book published by German art publisher, Arnoldsche, to accompany the traveling exhibition of new work by Joyce J. Scott titled Messages. This book is now available.
 For over 142,000 years, beads have played an important role as the oldest form of personal adornment around the world. Joyce J. Scott has revolutionized and transformed the potential of the ubiquitous bead as a relevant, contemporary art form. For over fifty-one years, wielding beads as a vision, Scott has committed her aesthetic practice to waking up the world, expanding beadwork's boundaries, with powerful in your face social commentary. While addressing society's ills, her visual and performance conversations on cultural stereotypes and racial injustices, elucidate her vibrant brilliant works of art.
The publication Messages features Joyce J. Scott's dynamic works from the traveling exhibition with full color images, introductions from the artist and curators, and scholarly essays from experts in their field, as well as museum curator's comments. Each individual provides deeper insights into the influences and extraordinary work of Joyce J. Scott, astutely capturing the essence and spirit of this icon of contemporary art.

The publication and exhibition "Messages" was organized and curated
by Libby Cooper and Jo Anne Cooper, co-directors of
Mobilia Gallery 348 Huron Avenue, Cambridge, MA 02138
For more information about the publication and exhibition contact Mobilia Gallery:
Email: mobiliagallery@gmail.com
Phone: 617-429-5600 / 617-876-2109
https://www.mobilia-gallery.com
The exhibition will run January 17, 2023 – June 23, 2021,
traveling to three venues:
January 17 – April 30, 2023
University Museums
Iowa State University
Ames, IA
June 24 – November 5, 2023
Fuller Craft Museum
Brockton, MA
January 28 – June 23, 2024
Crocker Art Museum
Sacramento, CA
"Visualized mathematical tales sneaking into my creative force, sneaking is correct. Magic is defined as a divination. Do I always desire the bully pulpit of isms, taking breaks to luxuriate in beauty as respite? No, but it comes calling, because I am a citizen of the right now world, utilizing my best voice, this mojo. Head and Heart and Fingers, all conspire to present a question and possible answer thru pointillism, inherent hue and texture. I know this is Hippy-Speak and I bandy tomes of the past. I am this contemporary Joyce, so blessed by decades of never wavering, of staying the course. Partly because I was starving for more, so hungry for another bite of innovation. Falling in ditches were lessons, not mistakes because they filled my plate."
— Joyce J. Scott, Love's Incantations, 2022
<!— Modal Window Reveals —>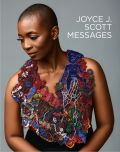 Joyce J. Scott: Messages
---