Gerri Rachins
---
POPROCKS 
"The origin for these paintings began with a walk on a beach in Miami. My eyes were attracted to small bits of bright colors in the vast beige field of beach sand. This visual experience reminded me of looking at a roll of unprimed canvas stretched out on the floor, with small colored jewels dispersed throughout.
As I approached, the colored bits were revealed to be small individual pieces of residual plastic that had washed up from the ocean onto the sand. No less interesting to me, I collected as many pieces as I could find, and placed them in a plastic bag. When I returned to Boston, I brought the plastic bag to my studio, released the plastic bits on a tabletop tray, and then began to play with them, inspiring me to create the POPROCKS painting series.
Fascinated by the complexity and subjective nature of human perception, I use color to initially attract viewers to the painting. In each painting, the interactions between elements of color, shape and pictorial space are often intentionally rendered with ambiguity, in an effort to undermine "first glance" assumptions. The shapes were initially torn and cut from unused cotton rag paper, glued on to rectangular three-dimensional panels, and then painted with oil paints. At times, the POPROCK paintings appear to be flat two-dimensional collages, projecting slightly out from the wall, hovering with uncertainty in the viewer's actual three-dimensional space.
Between the eye looking and the mind thinking, assumptions about what is real and what is illusion are made."
---
Gerri Rachins' work is influenced by her love of color and the history of 20th century abstraction. She has been teaching color theory, painting, and drawing courses at the School of the Museum of Fine Arts, Boston and Massachusetts College of Art and Design for over a decade. Gerri Rachins received a Master of Fine Arts degree from Massachusetts College of Art and Design, a Bachelor of Fine Arts from Philadelphia College of Art, and also studied at The New York Studio School of Drawing, Painting and Sculpture.
Rachins has been a Visiting Artist at the Museum of Fine Arts, Boston, the Danforth Art Museum, Framingham, Massachusetts, a Cultural Agenda Fund Panelist for the City of Boston, and Program Coordinator for the Boston Mayor's Youth Arts Corps. She has also taught at New England School of Art & Design/Suffolk University, New England Institute of Art, de Young Museum in San Francisco, California and The Peabody Essex Museum in Salem, Massachusetts.
See More of Gerri Rachin's Work: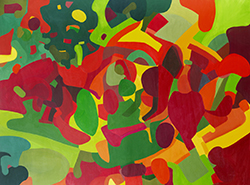 A REGULAR RIOT
Selected Collections
Danforth Art Museum, Framingham, MA
Museum of Fine Arts, Boston, MA
Numerous private and corporate collections throughout the United States